Chairman
Sant Longowal Institute of Engineering & Technology
Longowal
chairman@sliet.ac.in
Sh. Jagdish Rai Singal, the present Managing Director of Eastman Industries Ltd., Eastman Cast & Forge Ltd. and Director of Eastman Auto & Power Ltd., is an enthusiastic industrialist of national acclaim. His proficient expertise brought laurels to Eastman in the form of Four National Export Awards and a special Latin American Countries Focus Award for outstanding export performance by the Govt. of India. He had offered his valuable services as President of Ludhiana Management Association (2011-13), Executive Member of CII- Northern Regional Council (2002-2013), Chairman of EEPC at National Level (1991-98) and CII Punjab State Council (2008-09), Director of Punjab State Industries Export Corporation (1991-93), Member of Regional Advisory Committee Chandigarh, Expert Group of Entrepreneurs for Formulating Export Strategies for Punjab State (2006) and Governing Council of Christian Medical College and Hospital (2007-13). He has a rich experience of working as Member of Board of Directors, Vardhman Holdings Ltd., Patron Chamber of Industrial Commercial Undertaking (since 2003) and Patron United Cycle and Parts Manufacturer Association (since 2001). Being a fervent and dedicated mentor, he has joined the fraternity of Sant Longowal Institute of Engineering & Technology as Chairman, Board of Management.
Dr. SHAILENDRA KUMAR JAIN
Director
Sant Longowal Institute of Engineering & Technology
Longowal
Tel: 01672-253100
director@sliet.ac.in      
PhD: IIT Roorkee(UA)
PDF: Uni of Western Ontario,Canada
Prof. Shailendra Jain, has joined as Director SLIET on 3rd Nov. 2017, and is currently on deputation from Maulana Azad NIT Bhopal (MP), where he is a Professor in the Department of Electrical Engineering. He has over 23 years of experience in teaching, research and academic administration. After graduating in 1990 in Electrical Engineering from SATI Vidisha (MP), he obtained his masters degree in 1994, in Power Electronics from SGSITS Indore (MP). He received his PhD Degree from IIT Roorkee in 2003. Dr Jain was a Post Doctoral Fellow at University of Western Ontario, London, Canada in 2007.   His field of specialization are Power Electronics and Drives, Power Quality Improvement, Active Power Filters, High Power Factor Converters, Multilevel Inverters, Electrical Vehicular Applications, Fuel cell based Distributed Generation and High Speed Transit System.   He has guided 18 PhD and 60 M. Tech. Dissertations and published 100+ papers in Web of Science, Scopus and other peer reviewed Journals.   Dr Jain is the recipient of "
Career Award for Young Teachers
", awarded by AICTE, New Delhi to Technical Teachers of below 35 Yrs for their significant research contribution (2004). He was
honoured by Institution of Engineers, India IE(I)
for significant contribution in the field of Electrical Engineering on 39
th
Engineers Day (2006). He has been selected for
2016 Outstanding Branch Counsellor award by
IEEE R10 Asia-Pacific Region
. He was the founder Branch Counsellor of IEEE MANIT Student Branch, and under his guidance Chapter won Darrel Chong Bronze and Gold Student Activity Awards in 2013 and 2015 respectively.   He has authored 02 books on Modelling and Simulation using MATLAB-Simulink, handled sponsored R&D Projects funded by DST, MHRD, AICTE and IE(I), and Consultancy Projects of Govt Organizations and Industries. He has organised many Faculty Development Programs both sponsored and self-financed, as Coordinator and Principal Teacher, and delivered 150+ Expert Lectures at NITs/IITs/State Level and Other Technical Institutions.   He is the Senior member of IEEE USA, Fellow of Institution of Engineers IE(I), and Life Member of ISTE.
Proud To Be Part of SLIET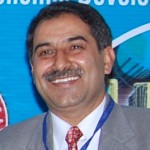 Dr. Harish Kumar Chopra
Registrar
Sant Longowal Institute of Engineering & Technology
Longowal
Tel: 01672-253115
registrar@sliet.ac.in